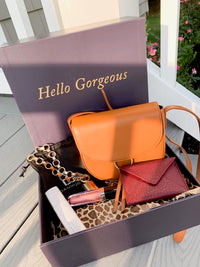 I have promoted the Rachel Zoe Box of Stylea few times here on TSF. I keep sharing it with you because I think it is one of the few subscription boxes that really WOWS each and every time.
If there were ever a "Box of Style" to covet, it is this one. I would pay $99 for the JJ Winters crossbody bag ALONE! The other stand out for me is the chunky gold Dannijo necklace that instantly glams up any look and will be in regular rotation for me this fall.
I also have been impressed with the skincare picks from RZ. I have been introduced to lines I don't think I ever would have been exposed to. The retinol serum by Shani Darden doesn't disappoint. I also had no idea Marc Jacobs sold fantastic lip glosses…..super luxurious! At least 2 of the products I have used in her boxes have been repurchased. That, to me, is the true point of the box….to expose me to brands that I might not otherwise know of and LOVING THEM so much, I become a repeat consumer. So, thank you Rachel, for continuing to be so darn fabulous.
USE CODE "CARLY25" $25 OFF your box! Making the box UNDER $75!!!